Window on the Arts and Entertainment: January 6, 2022 | Diversions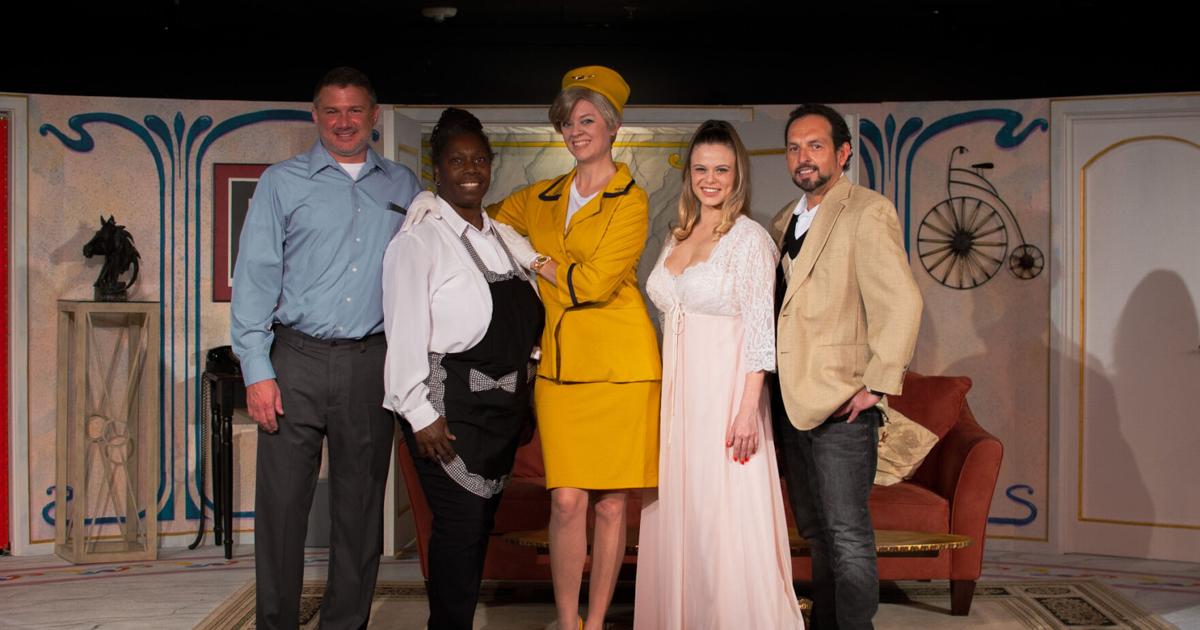 Early Bird Dinner Theater to present 'Boeing Boeing'
CLEARWATER – The Early Bird Dinner Theater will host the opening of its new production of "Boeing Boeing" by Marc Camoletti on Saturday January 8 at 13355 49th St. N., Clearwater.
"Boeing Boeing", directed by Patrick Brafford, will run until February 27. The cast includes Jennifer Casler, Rebecca Hamburg, Jason Hoolihan, Rob Romero, Naomi Sample and Margee Sapowsky. Dean Wick designed and built the set and Dominique Yarbrough is the stage manager.
"Boeing Boeing is hilarious," said Susan Fletcher Linardos, producer. "It's a wacky prank slamming the door and it's exactly the kind of comedy Early Bird audiences love. "The cast are so talented and I am delighted to be working with director Patrick Brafford again."
"Boeing Boeing" takes place in 1960s Paris. Playboy Bernard juggles three fiancées, all flight attendants, with meticulous planning and reluctant help from his housekeeper. But weather delays and the invention of a faster Boeing plunge her elaborate love life into chaos, especially when her male friend from the United States arrives.
Brafford first saw the play on Broadway in 1998.
"When I saw the play I was totally in awe of the performances of Mark Rylance and Christine Baranski and the three actors playing the flight attendants were hilarious," the director said. "The details of each character ring true even with the great physicality of the production. I'm not particularly drawn to the farce but this production, while physical and broad, also added depth to each character so that they didn't become not stereotypical.
When Linardos asked Brafford to consider the play, he recalled how he reacted to the New York production as a member of the audience.
"… and when I reread the script I felt like this was a script that we could have a lot of fun with if we found the right actors to bring it to life," Brafford said. "Luckily I think we did. We still have broad, physical humor but also richer, more realistic characters than what you normally see when watching a prank. There are always the crazy and unlikely situations that go with it. you'd expect, but I wanted to capitalize on the moment-to-moment experiences that these situations bring to each character and build the physical movements from the emotional moments created by the playwright.
Following the airing of "Boeing Boeing", Early Bird Dinner Theater will feature the comedy "Moon Over Buffalo", directed by Donna Donnelly, which premieres in March.
The price of the buffet and the show is $ 40 taxes included. Hand sanitizer is available and masks are optional. On-site catering is provided by Banquet Masters.
One must reserve. To reserve, dial 727-446-5898. For more information on Early Bird Dinner Theater, visit www.earlybirddinnertheatre.com.
DFAC solicits donations for Trashy Treasures
DUNEDIN – The Dunedin Fine Arts Center is currently accepting lightly used artwork and art-related supplies for the annual Trashy Treasures Art Sale.
Trashy Treasures – the Tampa Bay area's largest art garage sale – will be held Saturday, March 5, 10 a.m. to 2 p.m. at the center, 1143 Michigan Blvd., Dunedin. The Trashy Treasures preview night will premiere on Friday, March 4, starting at 6 p.m. The evening will feature the best trash treasures. Admission to the game is $ 10.
Donations can be dropped off at the Dunedin Fine Arts Center on January 13, 15, 20 and 22 from 10 a.m. to 12 p.m.
For more information, call 727-298-3322 or email events@dfac.org.
St. Petersburg Opera to perform Handel's "Semele"
ST. PETERSBURG – The St. Petersburg Opera Company will make its main stage debut in 2022 with three performances of "Semele" by George Frideric Handel on February 4, 6 and 8 at the Palladium Theater, 253 Fifth Ave. N., St. Petersburg.
Artistic director Mark Sforzini and director Karl W. Hesser will take Handel's baroque masterpiece from the 1930s with elaborate art deco scenography and period costumes. Accompanied by a comedic libretto by Restoration poet William Congreve, derived from one of the most sexually charged Greco-Roman myths, "Semele" is a story of innocent love, unbridled lust, jealous rage, ambition and revenge starring some of Handel's most inspiring characters. orchestral music and virtuoso vocal writing.
Betrothed to a prince, the dangerously ambitious Semele is nevertheless in love with Jupiter, the king of the gods. Jupiter takes Semele to an elaborate palace guarded by dragons, but his wife, Juno, plans to end the affair. With the help of Somnus, the god of sleep, Juno manipulates Semele to demand immortality and see Jupiter in his true form, a wish which, when grudgingly granted, results in his death.
The cast includes Holly Flack, coloratura soprano, as Semele; Kyle Tomlin, tenor, as Jupiter; Sarah Couden, contralto, in the role of Ino / Juno; Stéphanie Jabre, soprano, in the role of Iris; Ryan Belongie, countertenor, as Athamas; and Christopher Nazarian, bass, as Cadmus / Somnus.
The performances will take place on Friday February 4 at 8 p.m. Sunday February 6 at 2 p.m. and Tuesday, February 8 at 7:30 p.m. This production is sponsored by Bud and Betty Shapiro and supported in part by the Arts and Culture Division of the Florida Department of State, Florida Council for Arts and Culture and the city of St. Petersburg.
Individual tickets for the St. Petersburg Opera Semele start at $ 15 and are available to purchase online at www.stpeteopera.orgor by phone at 727-823-2040.
The Stirling Art Gallery opens a new exhibition
DUNEDIN – The 26 artists from Studio 1212 will be exhibiting their work until January at the Stirling Art Gallery, 730 Broadway, 2nd Floor, Dunedin city center.
The public is invited to the opening reception of "Here in Paradise" scheduled for Friday, January 14, from 5:30 pm to 7:30 pm The reception will feature wine. Artists will be present at the reception.
The hours of operation of the Stirling Art Gallery are Thursday through Sunday, 11:00 a.m. to 3:00 p.m.
Studio 1212 presents 'Over the Edge'
DUNEDIN – An opening reception for "Over the Edge" will be held on Sunday January 9, from noon to 3 pm, at Studio 1212 Art Gallery, 234 Monroe St., Dunedin.
The public is welcome. Light refreshments will be served. Artists will be present.
This exhibition will run from January 5 to February 20. Guests can also browse the unique gift items in the gallery shop.
Studio 1212 is open Wednesday to Sunday, 11 a.m. to 3 p.m. Visit studio1212.org.
Machine concert canceled
LARGO – The Machine has canceled its Jan. 16 performance at the Central Park Performing Arts Center.
The group performs the music of Pink Floyd. For more information on cancellation, visit LargoArts.com or call 727-587-6793.