Arts and Entertainment Window: March 24, 2022 | Culture & Leisure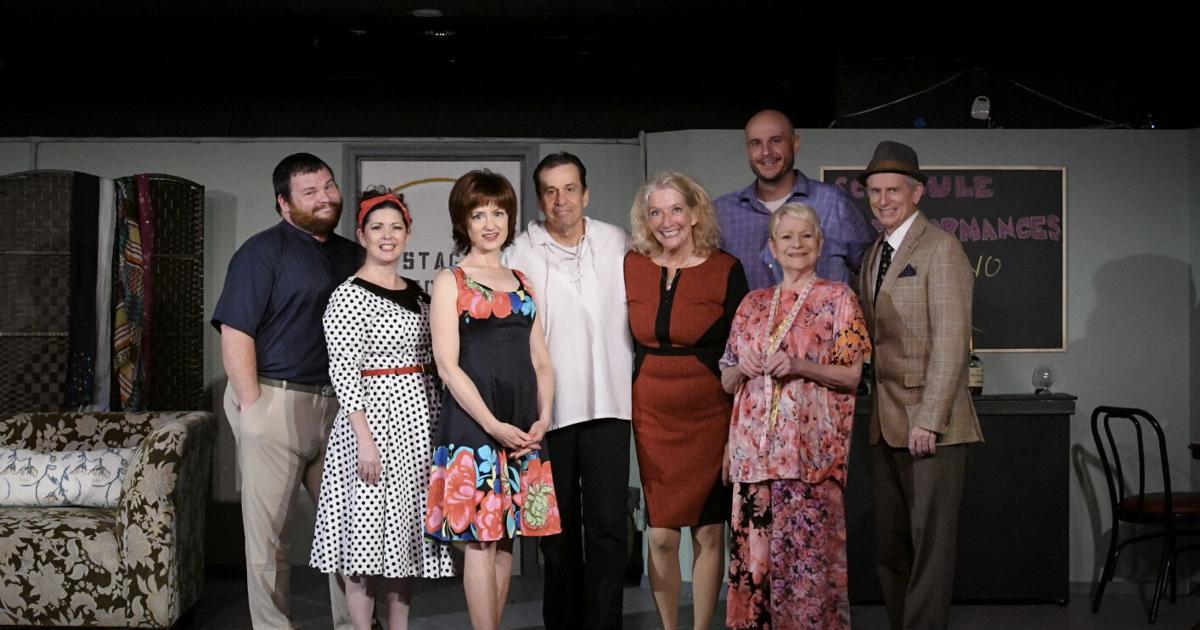 Early Bird Stages 'Moon Over Buffalo'
CLEARWATER – "Moon Over Buffalo" recently opened at the Early Bird Dinner Theater, 13355 49th St. N., Clearwater.
Production will run until April 24. The cost is $40 for the buffet and the show. For show times and to make reservations, call 727-446-5898 or visit www.earlybirddinnertheatre.com.
"Moon Over Buffalo," written by Ken Ludwig, is directed by Donna Donnelly. This production includes Andrew Allen, Lenny Agnello, Elizabeth Bell, James Bowe, Rick Bronson, Kagey Good, Patty Rinner and Christine Sanner. Alan Mohney Jr. designed and built the set and Mike Arnold manages the stage.
"'Moon Over Buffalo' is hilarious. It's a silly, goofy prank that slams doors," producer Susan Fletcher told Linardos. "The cast is so talented and I'm thrilled to be working with director Donna Donnelly again. It's truly two hours of fun.
This is Donnelly's fourth time directing Early Bird.
"Playwright Ken Ludwig is often called our quintessential contemporary prankster and 'Moon Over Buffalo'
might just be his best work," Donnelly said. "The sole purpose of farce is to evoke laughter and while humor is always appreciated by all audiences, it seems that in these difficult times humor is also very much needed."
According to Donnelly, the characters in "Moon Over Buffalo" are delightfully outrageous and the plot is full of misunderstandings and absurd situations.
"And although these characters are ridiculous and self-centered, they are still so charming and utterly lovable," she added. "I guess it's a testament to the playwright's brilliance. I am delighted that the Early Bird Dinner Theater has chosen, at this time, to produce this timeless comedy.
After "Moon Over Buffalo" airs, the Early Bird Dinner Theater will present the comedy "The Long Weekend" directed by Linda Weir.
Gallery to present the artist Hessam Abrishami
SAFETY HARBOR — Syd Entel Galleries will feature internationally acclaimed artist Hessam Abrishami for one day only.
An artists' reception will be held Saturday, April 2, 3-7 p.m., at the gallery, 247 Main Street, Safety Harbor. The show will continue until April 30.
During the reception, attendees will have the opportunity to see Hessam paint live. The exhibition will feature his latest original paintings, metal and canvas prints and masterful bronze sculptures.
Seeking a society freed from the confines of modern Iran, Hessam left his home country to expand his knowledge and awareness of the changing outside world. Following the great influence of ancient history that surrounded him as a child, his quest to excel as an artist led him to Italy, one of the great historical epicenters of the art world. He began his graduate studies at Pietro Vanucci, at the Accademia di Belle Arti, and perfected his craft, leading to 20,000 private collectors worldwide, over $60 million in sales, hundreds of solo exhibitions, more than 25 international exhibitions and several works in museums.
For more information, call Linda Gagliostro 727-725-1808 or email linda@sydentelgalleries.com.
Creative Pinellas Announces 2022 Grant Recipients
LARGO – Creative Pinellas recently announced the recipients of the 2022 Professional Artist Grants. Recipients include Courtney Elvira, Sarah Emery, Roxanne Fay, Jason Hackenwerth, Shannon Halvorsen, Tamia Iman Kennedy, Eileen Marquez, Rachel Stewart, Frederick Woods and the award-winning artist Jake-Ann Jones.
Each year, Creative Pinellas recognizes up to 10 Pinellas County artists who have excelled in their artistic practice through our Professional Artist Grant Program. These grants are awarded to Pinellas County artists of exceptional talent and ability who, with a history of increasingly successful work on the local, national or international stage, bring recognition, awareness and interest to our community and inspire other artists and art lovers. . Each selected artist receives a $5,000 grant and is encouraged to decide how best to use this award for their benefit and growth as an artist.
Additionally, Jake-Ann Jones was selected as the winning artist from this group of recipients. The winning artist is recognized by Creative Pinellas as a model partner and collaborator, sharing their skills and expertise and supporting the organization's mission during the grant period, and will receive an additional grant of $5,000 for the winning artist.
"We view these grants as an important piece of the puzzle in strengthening and supporting the outstanding professional artists who live and work in Pinellas County," said Barbara St. Clair, CEO of Creative Pinellas.
"They create opportunities for us to build relationships and connections county-wide, within the arts community, with the public here in the Tampa Bay area, and with art collectors and enthusiasts. regional art and
nationwide with our live, online programming and exhibits. The grants are part of the work we do to develop and promote Pinellas County as an arts and cultural destination and to grow and support the arts community.
This is the seventh cycle of the Professional Artist Fellowship. Creative Pinellas has awarded over 70 grants to artists of incredible caliber and innovation. The Professional Artist Grants are designed to nurture and sustain Pinellas County's creative community and to enhance the county as an arts and cultural destination. Grantees blog weekly, participate in artist conversations and workshops, write in Creative Pinellas' online magazine, and are invited to show their work at the Creative Pinellas Arts Annual, now in its fifth year and on the program Arts Annual BTW which places work in the hotel zone and will be in its fourth year.
For more information about Creative Pinellas, visit creativepinellas.org.
Dunedin artist announces new exhibition
CARROLLWOOD – Dunedin artist Theodosia AG Tamborlane will present 'My World: From New York to Carrollwood', a new exhibition of his paintings, which opens Wednesday, March 30 at the Carrollwood Cultural Center, 4537 Lowell Road, Tampa.
The exhibition will continue until May 23 with access during regular center hours. The center is open Monday to Friday, 9 a.m. to 6 p.m.; and Saturday from 9 a.m. to 12 p.m. There will be two reception evenings open to the public on April 8 and May 13 from 5:30 p.m. to 7:30 p.m.
The paintings featured in this exhibition are from eight different series of works created over the past 12 years when she worked in New York, New Jersey and Dunedin. Each oil painting is presented with a clear theme reflecting her life experiences as an artist and a lawyer.
Ruth Eckerd Hall Chorus will give a spring concert
CLEARWATER — The Ruth Eckerd Hall Chorus will perform its Spring Concert on Tuesday, April 5 at 7:30 p.m. at the Murray Theater at Ruth Eckerd Hall, 1111 McMullen Booth Road, Clearwater.
General admission tickets are $10. Call 727-791-7400 or visit www.RuthEckerdHall.com.
"Our spring concert will be filled with songs from our favorite decades, including music from the 60s, 70s, 80s and beyond. We'll even take a brief trip to music from the Middle Ages and Renaissance," said said Yohance. Wicks, Marcia P. Hoffman chair of the music department. "You will have the opportunity to hear madrigals from Thomas Tallis or modern masterpieces from Billy Joel and Simon & Garfunkel. We look forward to seeing you."
The Ruth Eckerd Hall Chorus, formerly known as the Clearwater Chorus, is the adult choir of the Marcia P. Hoffman School of the Arts at Ruth Eckerd Hall and is composed of members ages 19 and older. In addition to performing throughout the community, the choir has toured Europe and performed alongside the Florida Orchestra, Linda Eder, Andy Williams and John Tesh.
Applications are open for SPAA grants
ST. PETERSBURG — The St. Petersburg Arts Alliance, in partnership with the Mayor's Office of Cultural Affairs, is accepting applications for the Individual Artist Grants program.
Now in its sixth year, these 20 grants are intended to provide financial assistance to resident artists in the city of St. Petersburg for specific projects. The program is designed to support audience engagement in individual works/projects in the fields of visual arts, crafts, dance, music, theater or literature.
The candidate's curriculum vitae must show commitment to the art form through education, training, or professional experience, and must show evidence of exhibition, public performance, or publication within the past two years.
The grant period is from May 1, 2022 to September 30, 2022.
Applicants can apply for funding of up to $1,000.
The full application and guidelines are now fully online at stpeteartsalliance.org/spaa-individual-artist-grant-program.
Gulfport Community Players will present "The Tin Woman"
GULFPORT — "The Tin Woman," a comedy/drama written by Sean Grennan, will premiere March 24-April 3 at the Catherine Hickman Theater, 5501 27th Ave. S., Gulfport.
Performances will take place Thursday through Saturday at 8 p.m. Matinees will take place on Saturday and Sunday at 2 p.m. Tickets are $20 and are available online only at www.GulfportCommunityPlayers.org.
This heartwarming piece deals with the death of a child – despite being 40 years old – and the impact that death has on those left behind. When the donor's family agrees to meet Joy, the recipient of the heart, the play becomes funny and warm.
This story, presented by the Gulfport Community Players, mixes drama, hope and humor. The play's producer, Eileen Navarro, states that "it's no downside, the author has brilliantly blended humor and tragedy".
The play is directed by Brick Brickel and the cast includes Karyn Lorenzetti, Stephen Bell, Daniel Harris, Keisha Paul, Matthew Keith, Jennifer Casler and Wendy Aspinwall.
Gallery to present the Alan Metzger exhibition
TARPON SPRINGS – In April, Alan Metzger will exhibit his oil paintings on the back wall of Tarpon Art Guild, 161 E. Tarpon Ave., Tarpon Springs.
A reception will be held on Friday, April 1, from 6 to 9 p.m. at the gallery.
Known for his dynamic brushwork, Metzger recently won first prize in oil painting at the Pasco County Fair and first prize in professional oil painting at the Strawberry Festival.