Arts and Entertainment Window: January 13, 2022 | Deviations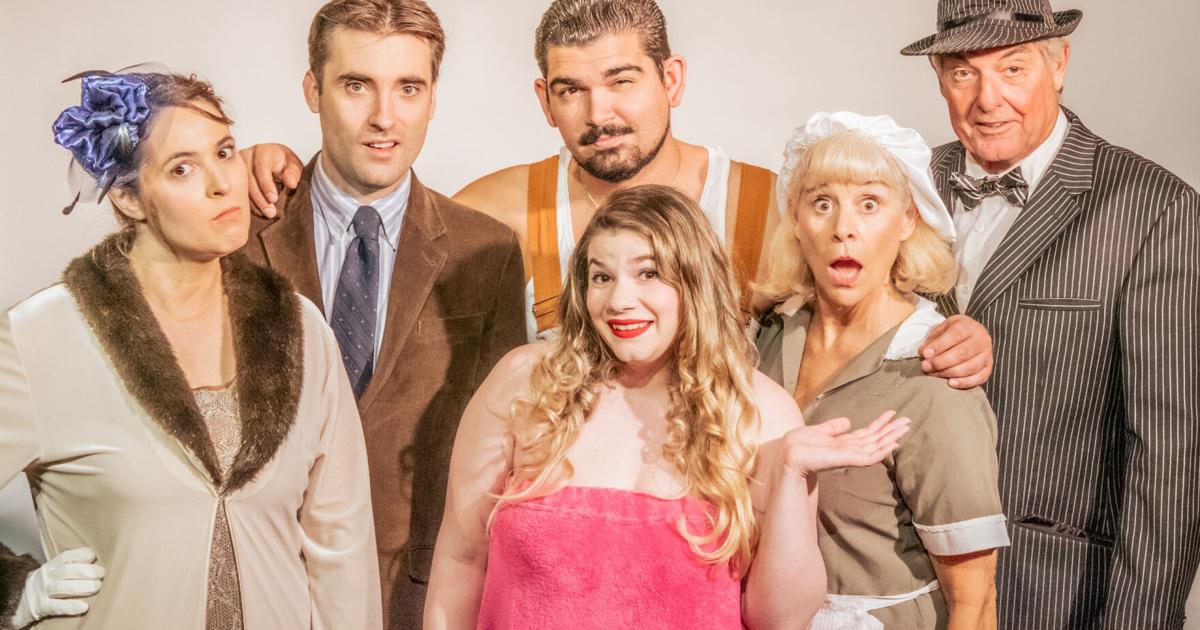 JFL will stage "Natalie needs a babydoll"
LARGO – The Just for Laughs Dinner Theater will present 'Natalie Needs a Babydoll', opening Saturday January 15 at 1999 Starkey Road, Largo.
Performances will be Thursdays at noon and 5 p.m.; Saturdays at 12 p.m. and 5 p.m.; and Sunday at 5 p.m. Doors open one hour before the show. The food is prepared by Banquet Masters. Tickets are $36 per person. Performance is based on reservations, so reservations are required. For reservations, call 727-469-3233. The show will continue until March 20.
Written by Caroline and Neil Schaffner, this production of "Natalie Needs and Nightie" will be directed by Kara Gold-Harris.
It's 1940s Chicago, and bachelor Tommy Briggs (Kevin Lawrence) often has his mail, phone calls, and visitors misdirected to the apartment of a woman whose alias is also Tommy Briggs (Molly Healy). . But Mr. Briggs has bigger issues to deal with. Tommy's boss, Juniper J. Juniper (Toby Manion), aka Mr. Vita Cola himself, is on the rise – and there's a big problem. Young executives at the Vita Cola Company are expected to be married (plus extra pay for having kids), and Tommy lied to get the job. Tommy scrambles to find someone to impersonate his wife in time for the big boss's visit. Meanwhile, a young woman named Natalie Newsome (Brianna Anderson) who had intended to visit the female Tommy, mistakenly ends up in Mr. Briggs' apartment – and has managed to misplace all of his clothes. A compulsive maid with a drinking problem played by JFL General Manager Barbara Anthony tries to help but always seems to make things worse as this hilarious, wacky comedy ensues.
Souper-théâtre Just for Laughs was founded in 2016 by Barbara Anthony and Toby Manion. The pair sought to bring a strictly comedic dinner theater to the area. Productions have included "Baggage", "Sin, Sex, and the CIA", "A Christmas Cactus", "Getting Sara Married", "Sandy Toes" and "Salty Kisses", "Nana's Naughty Knickers", "Social Security" , and "Sex please, we're sixty."
For more information, visit JustForLaughsDinnerTheatre.com.
New softball mural unveiled at Sisler Field
TARPON SPRINGS — Tampa Bay artist Monica Swartley's work for the city has been so well received that it has led to a second commission.
Last year, the town's public art committee awarded an April 2021 call to Swartley artists for an original baseball-themed mural. This mural currently adorns the west side of the building on Sisler Field and features a stack of scuffed baseballs – appropriate for one of America's most beloved sports. Sisler Field is on Meres Boulevard and Bayou Avenue and is used by various baseball and softball teams. It was named for George Sisler, Baseball Hall of Fame inductee, contemporary of Babe Ruth, and manager of the St. Louis Browns (now the Baltimore Orioles) who once played on the field.
Due to the overwhelmingly positive public response to the original mural, the City of Tarpon Springs, through the Public Art Committee, commissioned a second mural from Swartley, which was recently completed on the theme of softball. Located on the east side of the same building, the bright green color of a softball, white baseplates and red ball laces combine to make a colorful tribute to this popular sport and the teams that play it.
Swartley is a realist painter who lives and works in Tampa. Originally from Colebrook, Connecticut, his small-town roots gave him an appreciation for the inherent value of nature from an early age. She went on to earn a Bachelor of Science in Biology from the University of Tampa, where she cultivated a deep respect for the natural world through an objective lens. Immersed in scientific studies, she was simultaneously exposed to a traditional art education for the first time through figure drawing lessons. The sciences instilled in him the desire to be precise, which influenced his hyper-realistic style as an artist. His work is an exploration of the balance between linear precision and painterly impressionism.
Hickman Theater will present "Rat Pack Together Again"
GULFPORT — Tony Sands' "Rat Pack Together Again" show will be presented on Sunday, January 30 at 2 p.m. at the Catherine Hickman Theater, 5501 27th Ave. S., Gulfport.
Tickets are $30 per person. Visit www.brownpapertickets.com/event/5232773.
The show is a tribute to the legendary careers and antics of Frank Sinatra, Sammy Davis Jr. and Dean Martin.
The three famous superstars who reunited in the 1960s may be all gone, but their images are carried by three incredible impersonators who take on the roles of the stars during their glory days. With their stage banter that made their act a big hit in Las Vegas, Tony Sands stars as Frank, Robert Cabella plays Dean, and Steve Roman stars as Sammie. Together they combine and bring to their audience the best of songs, comedy, sketches and their individual Rat Pack hits.
Syd Entel Galleries announces new exhibition
SAFETY HARBOR – "Happy New Art, Glass and Jewelry" – a new exhibition featuring new work by Brett Varney, Maya Eventov, Pasagic, Adam Kaser and Suzanne Schwartz – will run from January 22 to February 26 at Syd Entel and Susan Benjamin Galleries Glass Etc., 247 Main Street, Safety Harbor.
An opening reception will be held on Saturday, January 22 from 10 a.m. to 3 p.m. The show is open to the public. For more information, call Linda Gagliostro at 727-725-1808 or email linda@sydentelgalleries.com.
Brett Varney's inspiration came from the works of Matisse, Van Gogh, Gauguin, Kandinsky and others. His oil pastel landscapes are simplistic in line and form, yet intense in color and texture.
Emilija Pasagic is from Belgrade in the former Yugoslavia. As a child, Pasagic always painted and drew. Pasagic's Unconstructed Flowers are produced on paper and canvas with a variety of traditional and innovative techniques. Depending on her mood and what is available in her studio, she may incorporate up to half a dozen elements into each painting.
Maya Eventov has long been a gallery favorite. She is known for her sculptural palette knife paintings of birches and poppies. His latest paintings – the "Spectrum Series" – offer loose, abstract, three-dimensional inspired landscapes.
Suzanne Schwartz designs and creates jewelry inspired by nature and textiles. Sewing with fine silver and gold thread, Schwartz uses texture and pattern to express the personality of each piece.
Adam Kaser is inspired by the natural world around him. Originally intended for oil painting, he was seduced by the medium of blown glass. The ocean in particular captivated him. With glass blowing, it is able to further embellish the aesthetics of sea life and aquatic themes, the fluid movement of glass pays homage to the underwater world it creates.
'World of Musicals' postpones Clearwater show
CLEARWATER – Ruth Eckerd Hall has announced that "The World of Musicals," scheduled for Sunday, January 16 at 1 p.m., has been postponed.
Tickets will be honored on the new date, Sunday, January 22, 2023 at 1 p.m. Tickets are on sale now.
Public Art Walk Set
CLEARWATER – The Downtown Clearwater Art Walk is offered on third Saturdays at 10:30 a.m. and 4:00 p.m. The next walk will take place on Saturday January 15th. Participants meet their guide at the Ring Canopy sculpture in front of Old City Hall at 112 S. Osceola Ave. Free parking is available in the parking lot of the old town hall. The docent-led walk covers the Cleveland Street corridor and adjoining areas.
Participants will stroll through downtown Clearwater while learning about the city's vibrant public art scene. During the hour-long walk, participants will see at least 20 art installations, including sculptures, murals, sign boxes wrapped in artwork, pavement artwork, and paintings murals on storm sewers. Tours are organized by the Clearwater Arts Alliance. Afternoon rides are coordinated to end just before the Downtown District's monthly Sip and Stroll event. All art walk participants are entitled to a discount if they wish to attend Sip and Stroll.
Tickets for the Downtown Clearwater Art Walk are $10 in advance or $15 on the day of the tour. To register, visit www.eventbrite.com. For more information about the organization, visit www.clearwaterartsalliance.org or email info@clearwaterartsalliance.org.