Arts and Entertainment Window: February 17, 2022 | Culture & Leisure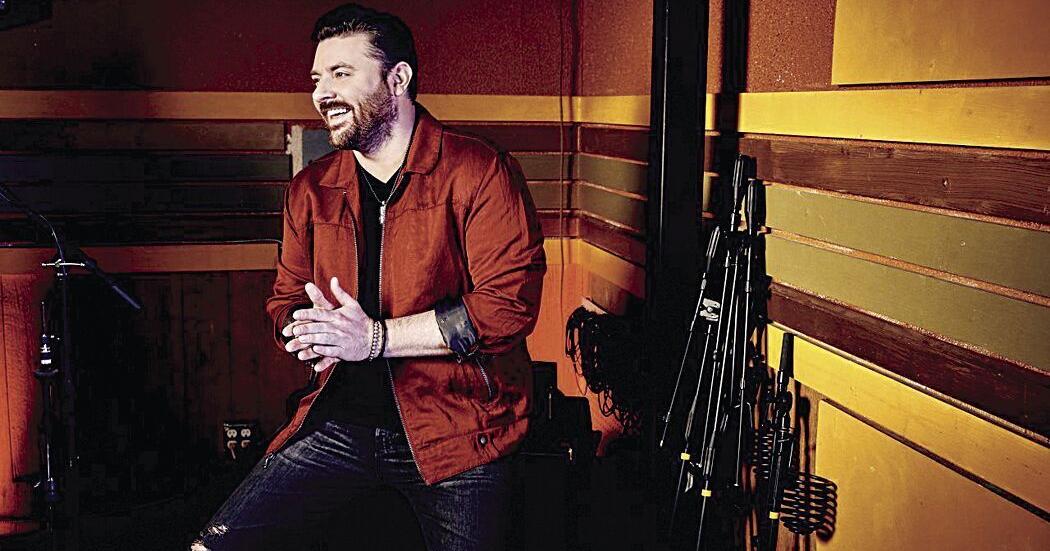 Chris Young to headline Valspar LIVE
CLEARWATER – Ruth Eckerd Hall on the Road recently announced that multi-platinum country music star Chris Young will headline Valspar LIVE presented by Chick-fil-A at the 2022 Valspar Championship. Young will be joined by guests Big & Rich specials.
Young and Big & Rich will each perform on the Osprey Driving Range adjacent to the Copperhead Course at Innisbrook Resort after play ends on Saturday March 19 at approximately 6:30 p.m. The concert is free to all Saturday tournament patrons, with Big & Rich opening with a 30-minute show before Young's headlining show. Tickets are on sale now for all days of the tournament, including Saturday at valsparchampionship.com/tickets-packages/.
Valspar LIVE last premiered in 2019 with Brad Paisley. The 2022 concert is the second Valspar LIVE to feature multiple acts. Jake Owen and Dustin Lynch headlined in 2018. Valspar LIVE debuted in 2015 with the band Perry, followed by Rascal Flatts in 2016 and Toby Keith in 2017.
Young has amassed an impressive list of accomplishments, including membership in the iconic Grand Ole Opry, nearly 5 billion on-demand streams, 13 million singles sold, 12 career No. 1 singles, 22 RIAA-certified projects gold/platinum/multi-platinum, six Country Music Association nominations, four Academy of Country Music nominations, and two Grammy nominations, plus awards for Performance of the Year and Collaborative Video by year at the CMT Music Awards. These accomplishments and more landed global artist RCA Records Nashville on Billboard's Top 20 Country Artists of the Decade.
"Famous Friends" — Young's platinum-certified song that topped the charts for several weeks with Kane Brown — took No. 1 on Billboard's Country Airplay Songs chart at the end of the year.
Named "one of the finest traditionalists of his time" by the Associated Press, Young is an international ambassador for country music, performing to capacity crowds around the world. With a hit-packed set that spotlights his 12 chart-topping hits, including back-to-back No. 1 hits "Losing Sleep," "Sober Saturday Night," "Think of You" and "I'm Comin' Over" – the Grammy- and ACM-nominated singer's latest headlining tour was performed in front of more than 400,000 fans in three countries.
Big & Rich – the duo of Big Kenny and John Rich – have been country music stars since their 2004 debut hit, 'Save A Horse (Ride A Cowboy)', from their triple-platinum debut album 'Horse of a Different Color ". "Big & Rich are America's technicolor cowboys, brothers in arms serving the creed that great music knows no borders. Individually, Rich and Kenny are top notch musicians, songwriters, producers and artists. They won eight awards as CMA Vocal Duo of the Year.
At the Copperhead course in Innisbrook, Sam Burns will attempt to defend his 2021 PGA Tour Valspar Championship title against a field that includes many of the world's top ranked golfers and recent great champions including Collin Morikawa, Dustin Johnson, Xander Schauffele , Brooks Koepka and Bouba Watson.
The Valspar LIVE concert is produced by the Valspar Championship in collaboration with Ruth Eckerd Hall on the Road.
LAB Theater Project will present 'Soup'
TAMPA – LAB Theater Project will present its production of David Zarko's "Soup," Feb. 24-March 13, at 812 E. Henderson Ave., Tampa.
Performances will be Thursday through Saturday at 8 p.m.; and Sunday at 3 p.m. On-demand viewing will also be available from March 10-24. Tickets are $28 per person. For tickets and additional information, visit www.labtheaterproject.com.
"Soup" is a dark comedy that revolves around themes of family, elder care, homelessness, unconscious bias, and more. The production will be directed by Kara Gold-Harris and will feature local actors Mary Kay Cyrus, Suzy Duic, Pamela Wilson-Caruthers, Robert Dox and John D. Hooper. Set design is by Owen Robertson, with design, scenic art and props by Beth Tepe-Robertson. Lighting design is by Kristy Pike, sound design by Jonah Robertson, and costume design by Lara Jackson. The livestream is from Kara Gold LLC.
"'Soup' is about the unifying force that sitting down to a meal can have, regardless of age, race, ethnicity, heritage, language, religion , sexuality or anything else you could think of that would usually divide us," Gold said. -Harris. "In times of illness, a good bowl of soup may not cure us, but it can warm us body and soul, even if only for a brief moment. In recent years, the world has been sick. We continue to suffer from a pandemic; we wake up to news of mass shootings, hostage takings, civilian casualties; we tremble in fear of the next hurricane, tornado, earthquake, forest fire, tsunami. There is no panacea for these afflictions. They won't go away overnight. All we can do is step into the breach one more time, keep fighting the good fight, stand up for what we believe in, and live day by day. This piece reminds us that sometimes sitting down to a home-cooked meal around the kitchen table can lead to more good than all of our frantic efforts can ever hope for.
In what seems like a perfect solution, Fran's energetic friend Isabel brings in Felicity to look after Fran when she's lying with a broken foot. Alan, Fran's earnest lawyer son, isn't so sure about the arrangement, especially after it emerges that Felicity is homeless and has a checkered past. It's up to Fran to bring them together, in what her mother's instincts tell her could be a mutually beneficial relationship.
St. Petersburg Fine Arts Festival Ensemble
ST. PETERSBURG — Paint a perfect weekend at the eighth annual St. Petersburg Festival of Fine Arts, taking place Saturday and Sunday, February 19 and 20, from 10 a.m. to 5 p.m., at South Straub Park, 198 Bayshore Drive NE , Saint PETERSBOURG. .
Free entry. The festival will feature original artwork by more than 100 artisans from across Florida and the United States. Together these artisans will create an outdoor gallery of stunning, original, handmade artwork from paintings, photography, sculpture, metalwork, digital art, jewelry, glass, ceramics, woodworking, mixed media, fiber art, metalwork and much more. Those who can't find what they want can order a unique and original piece of art.
The event is co-sponsored by the City of St. Petersburg and coordinated with the Odyssey Theater. For more information, visit www.paragonartevents.com.
Beach Art Center announces a show
INDIAN ROCKS BEACH – A reception for the annual student-teacher show will be held Friday, February 18, 6-8 p.m., at the Beach Art Center, 1515 Bay Palm Blvd., Indian Rocks Beach.
The public is invited to attend the reception. For more information, call 727-596-4331 or visit www.beachartcenter.org.
It's the time of year when the Beach Art Center celebrates our talented instructors and their students. The annual student-teacher show is currently on and will run until March 18. The wide range of works on display include oils, acrylics, watercolours, mixed media, pastels, drawings, pottery and sculpture.
The center is open Monday to Friday from 9 a.m. to 4 p.m.
The Roots & Boots Tour is coming to Country in the Park
PINELLAS PARK – The 30th annual Country in the Park will take place on Saturday March 19 at England Brothers Park, 5010 Dave McKay Way, Pinellas Park.
Headlining the event will be the Roots & Boots Tour featuring Sammy Kershaw, Aaron Tippin and Collin Raye.
Kershaw is breaking through the ranks of country music stardom and has contributed to more than just the charts. Her platinum albums were propelled by hits such as "She Don't Know She's Beautiful", "I Can't Reach Her Anymore", "National Working Woman's Holiday", "Love of My Life", "Cadillac Style" , "Don't Go Near the Water" and "Haunted Heart".
Tippin has been on a crusade for the working man and woman since his uncompromising single "You've Got to Stand for Something." Her voice continued to ring out loud and clear with hits such as "I Wouldn't Have It Any Other Way", "There's Nothing Wrong With Radio", "It's As Close As I'm Going To Get To Loving You, "My Blue Angel" and "Kiss This." Five of his albums are certified gold and a sixth CD – "Read Between the Lines" – is at the platinum level.
Raye's soulful delivery set national standards in such searing ballads as "Love, Me", "In This Life", "Not That Different" and "If I Were You".
Admission to Country in the Park is free. A schedule of all the activities and entertainment for this free event coming soon.
Tarpon Art Guild Gallery will host an exhibition and artist talk
TARPON SPRINGS — The Tarpon Art Guild Gallery, 161 E. Tarpon Ave. in Tarpon Springs, will present a Back Wall exhibition by artist Naomi Lukson.
Lukson will be at the gallery on Friday, March 4, from 6 to 9 p.m., for an artist talk. She is an artist so inspired by the great masters of the Renaissance that she specializes in the reproduction of their works. It will have a premiere showing nine works reproduced from the works of Vermeer, DaVinci, Rembrandt and Gerard Terbosch. She will also have an original piece, "Mother and Child". Lukson can also be commissioned to paint a special piece for you.
Lukson's art will be in the gallery throughout March. For more information, call Heather at 727-744-3323.
Steven Wright reschedules the Palladium show
CLEARWATER – Ruth Eckerd Hall on the Road recently announced that comedian Steven Wright has postponed his upcoming appearance at the Palladium Theater in St. Petersburg.
The show had been set for Sunday, March 6 at 7 p.m. Tickets will be honored on the new date, Thursday, November 10 at 7 p.m.
Tickets are on sale now. Call 727-791-7400 or visit www.rutheckerdhall.com.
For more information about the visit, visit StevenWright.com.
Arielle's Murray Theater show postponed
CLEARWATER – The Murray Theater at Ruth Eckerd Hall recently announced that the concert with singer-songwriter Arielle on February 20 at 8 p.m. has been postponed.
Tickets will be honored on the new date, Saturday, October 8 at 8 p.m. Tickets are on sale now. Call 727-791-7400 or visit www.rutheckerdhall.com.
For a full list of tour dates and more information, visit www.imarielle.com.
Studio 1212 to host the reception of the exhibition
DUNEDIN – A reception for the 'Tell Us a Story' art exhibition will be held on Sunday, February 20, from noon to 3 p.m., at Studio 1212 Art Gallery, 234 Monroe St., Dunedin.
The reception will feature live music from jazz pianist Roger Harrison as well as light refreshments. Award-winning local artists will be present.
The exhibition will run until March 20. The gallery is open Wednesday through Sunday, 11 a.m. to 3 p.m.
Visit the gallery's online store at studio1212.org.